Pad Printing
Pad Printing is an excellent form of decoration, providing a low-cost, but good quality solution.  With prices starting at £0.32 per item, plus set-up costs, Pad Printing is ideal for short to long runs, where the same design/text is required on every piece.  Special promotional items, Wedding favours and Gift items are all perfect opportunities, along with Clubs and Associations that require a number of items decorated with their crest or logo.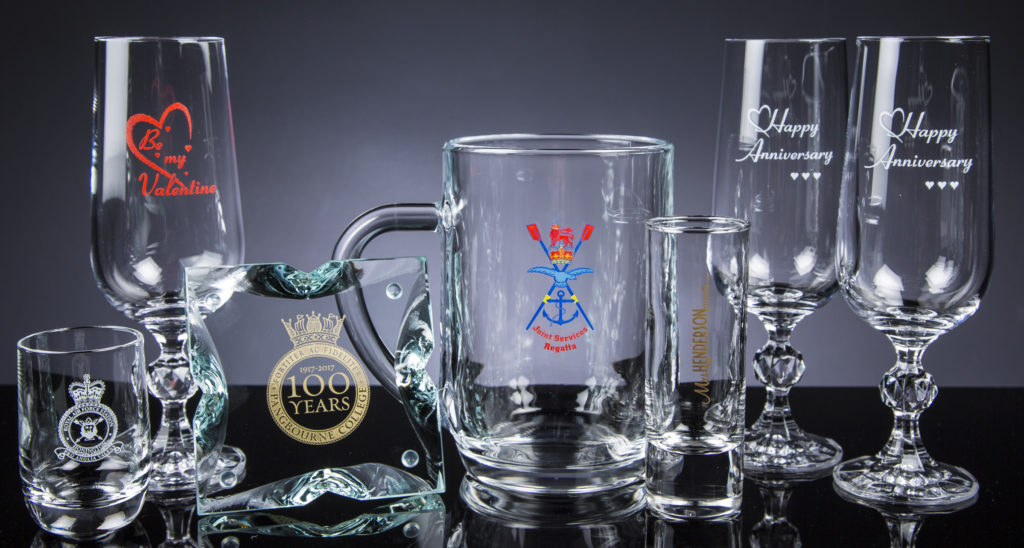 Frosted Colour print is the most popular because it emulates the colour of sandblasted engraving. You can also select from Black, Dark Blue, Gold, Green, Orange, Purple, Red, Silver, Light Blue, White and Yellow.
Just about anything can be printed onto glass and crystal items.  The print size will be determined by the image required and the article it is to be printed on, with a maximum size of 50mm in diameter.  We will size any image to suit the article, to give as detailed an image as possible, and to prevent excessive distortion.  Pad printing machines will decorate glass in a single position – they cannot print 'wrap around' designs.  We can, however, print in more than one position, i.e. on the 'front' and 'back' of Tumblers, Wine Glasses, etc.
Every item that can be printed, will show the relevant prices.  Some items, usually of a handmade nature, are only available to be printed in single colour.  This is due to the items slightly varying in size, therefore, not possible to achieve positioning/registration of more than one colour.
Our Crystal Gifts™ range of Flutes and Tankards are pad printed with designs for many special occasions, such as Anniversaries and Weddings, Birthdays, Christmas and Personal Gifts.  Packaged in a High Quality box, they are suitable to sell straight 'off the shelf'!