Equipment and Training
Here at The Glass Scribe, we advocate Sandblasting as the best form of commercial glass and crystal engraving, bettered only by Hand Engraving!
We have been in the business of supplying successful glass engravers with glass engraving equipment, training them in glass engraving and supplying ongoing support and supplies for all their various needs, for 35 years.
As specialists in Sandblasting, we offer a comprehensive suite of professional equipment, tools and consumables, along with training courses tailored to your needs.  Whether you are just starting your business or looking to improve and enhance your existing engraving services, we can help you!
Only Sandblasting can provide a deeply engraved, high quality, matt white, crisp finish, even with the most intricate of designs, as the picture below illustrates.  What you see below is a photograph looking through a piece of crystal at an engraving on the base.  The part of the engraving you see is in an area of just 40mm (1.4") across!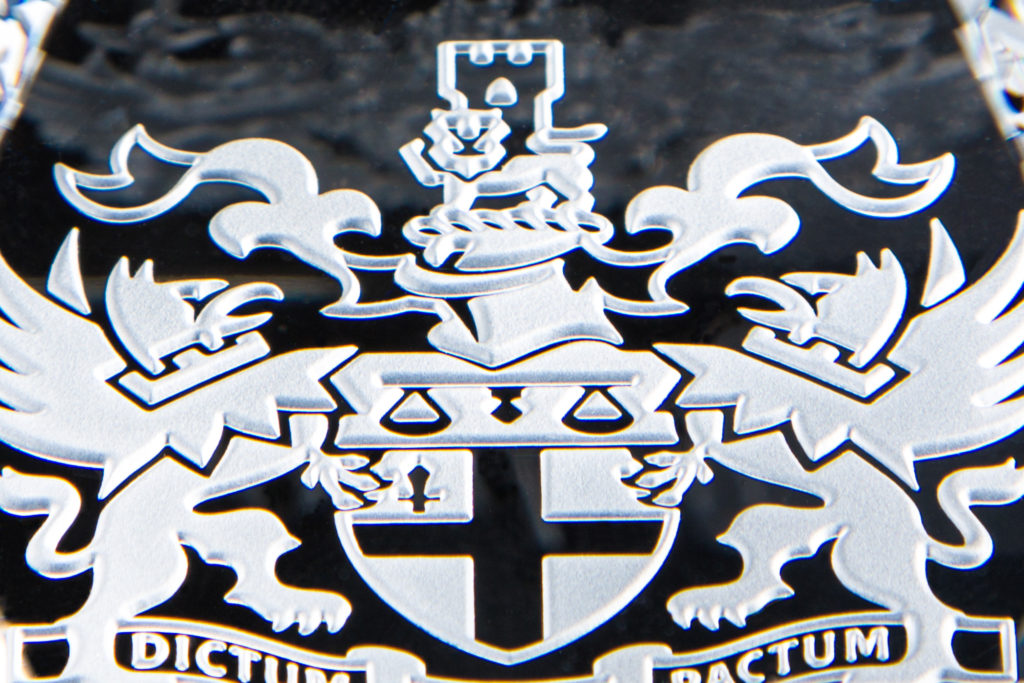 Taking it one step further and, using very fine media (aluminium oxide, also known as sandblasting grit), it is possible to engrave Photographs and graphic images in the same way.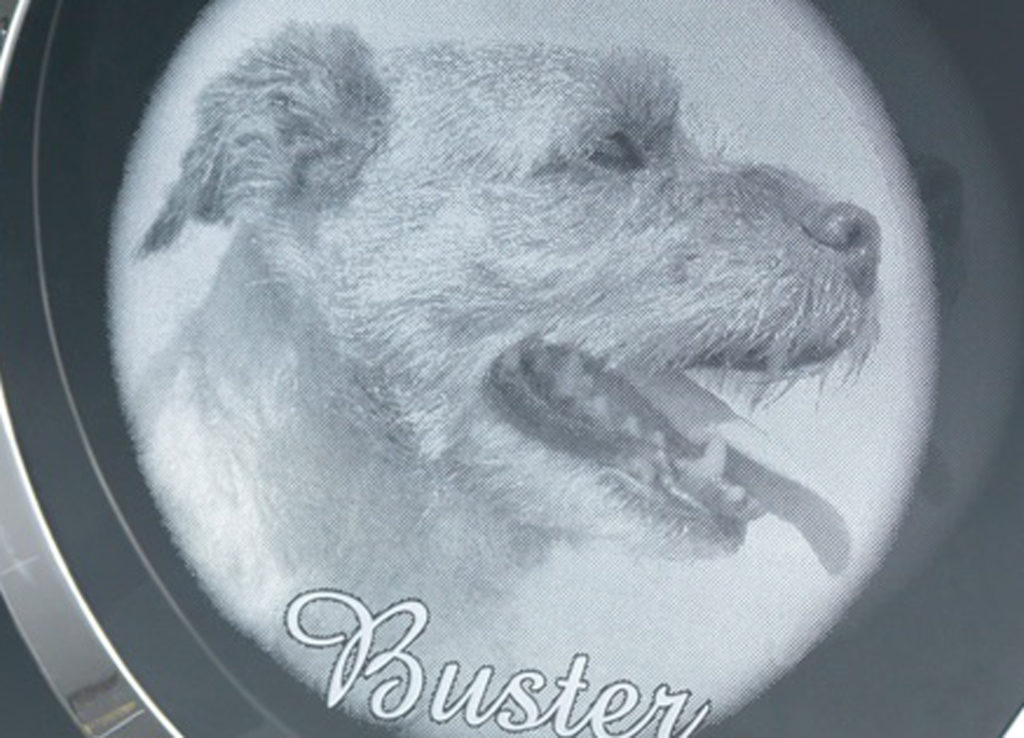 How can you achieve these results?
Rayzist Mask/Stencil Making Equipment
We stock various kits for making your own glass engraving masks/stencils.  Whether you require a full set-up, or are looking to switch to a superior and more cost effective mask making system, we have a kit for you.  Instructions are supplied with every kit and help via telephone and e-mail is freely available.  Tools and Consumables are stocked in depth, ensuring your ease of access.
The Pressure Pot Sandblasting Cabinets - Rayzist Sandcarvers
2034VXA - A Glass Engraving Cabinet that, in addition to being a professional glass blasting machine, is also capable of engraving stone, wood metal and some plastics.  A Pressure Pot system that will enable you to sandblast quickly and efficiently.
Dual Door entry, Powerful lights, a large viewing window, the exclusive 'Air Curtain' feature along with the Vortex extraction system will keep your working space highly visible and clear of media while you are engraving - no more peering into a dimly lit cloud of dust through a porthole!
Complete with adjustable height, this machine really is 'built for you'. The Padded Armrests also ensure a comfortable sandblasting experience.
1924 - A smaller unit than the 2034VXA, more suited to the low volume engraver or as a back up machine. It has the same high quality parts and Pressure Pot system as the 2034VXA, but without the Vortex Extraction system and is at a fixed height. This unit does have a dedicated extraction system, just not as advanced as the system on the 2034VXA.
We advise using a Hydrovane compressor with sandblasting cabinets, they are efficient, durable and very quiet. There is also a network of engineers throughout the UK for servicing. We also advise that an aftercooler is fitted to the compressor, chilling the air and removing moisture. Moisture is an enemy of sandblasters, due to the media tending to 'clump' and clog your machine when damp.
An alternative is to purchase a cheap 'throw away' compressor and we can advise you on the rating required.
Training Sessions - Receive training from the professionals!
Purchasing a Sandblasting Cabinet and Compressor will entitle you to a completely Free, one day, one to one, training session (usually £405.00), here at our factory near Inverness. We also offer a discount on a relevant course when purchasing other equipment.
Our training courses are tailored to your needs, where we focus on the skills you would like to improve upon, or, learn from scratch.
Glass Engraving Tools and supplies
We supply a variety of tools, supplies and accessories to aid you in the engraving of glass and crystal. Centralisers to mark registration lines at 90º to the handle of tankards and loving cups. Burnishers and spiking tools to aid in the efficiency of applying stencils and an inexpensive tape ideal for masking off the area around stencils prior to engraving. These are just a few of the tools and accessories that will help your engraving process be as efficient as possible.
During a training session we can show you how to use our 'touch up pen' and polishing kit, both can help you save money rectifying a mistake. We can also show you our colour infill and how to apply it quickly and efficiently - imagine a piece engraved for a 50th Wedding Anniversary, infilled with Gold colour!
With such a range of options available, you will no doubt have lots of questions!? We are proud of our extensive knowledge and will be happy to help and guide you on the most suitable equipment for your requirements.